Why do you think 9 out of 10 marketers use email to generate leads?
Just for one second, imagine you bought a lottery ticket and earned back the same amount of money you have spent on it. You are still happy, aren't you? Now, think that you won the prize forty times more than the initial ticket price; for some, it is a dream come true! But what if we suggest you a type of investment, which can yield the same return, and this time would not depend on the probability of your ticket numbers being picked? Would you be interested in learning how and what it is?
Don't go far, the answer is simple – COLD EMAIL. The research shows that every dollar invested in email marketing yields a return of around 44 USD. Unfortunately, people are not aware of this handy and readily available opportunity to enhance their businesses. Finally, we are here to help!
However, it is not just a blindly sent email that will help you enhance your business. We will guide you through the cold email tactics, which will effectively help your business to grow, even with a small budget.
"Hurry up and tell me what to expect".
Our guide will also help you to understand the technical limits imposed on the users by the emailing services and how you could go beyond them. We will help you to increase the number of daily sends to almost unlimited. Moreover, by the end of this guide, you will learn about how to increase your email open rates, thanks to cold and warm emailing.
Spoiler Alert: Keep on reading, and you'll dwell on writing shorter emails and building empathy with customers. We will also explain our 40/40 rule with which you can be sure to never end up in the spam folder, and your cold emails will never be cold anymore.
With this handbook, you will better grasp the ways to find prospects, collect useful data, prepare emails ahead, schedule your distribution, score your leads and range them. If you wish your lead generation to be automated and organized or build up qualified leads, stay here!
We will help you believe in yourself when sending outreach emails and realize once and for all the benefits of cold emailing for your business.

Table of Contents
●    Chapter 1: Pick the right cold email distribution server
●    Chapter 2: Connecting Allforleads and your cold email senders
●    Chapter 3: Getting ready to send out your first cold email
●    Chapter 4: Lead scoring configuration
●    Chapter 5: Get integrations going
●    Chapter 6: Finding prospects through our tools
Chapter 1: Pick the right cold email distribution server

Cold emails we said, but what is it after all? Your email is cold when you send an email to a receiver with no prior contact. People use services to send out cold emails. Those services offer different features to senders. Nevertheless, the main reason to opt for the specialized services or paid options is the limits set in the daily emailing services we use, among others the fixed amount of emails one can send out per day. If you are planning to accelerate your business by enhancing your email outreach, you should go for those services as well.
The most popular service providers for cold emailing are Google Workspace (G Suite) and Office 365. The latter is Microsoft Outlook's paid variant.
Pro Tip: Be aware that the above providers are claiming to offer more than they do in reality.
But let's be frank, in general, mentioned email services are very well organized and based on reply and open rates, their bots will recognize that you are using their service to send out cold emails. You might end up being blacklisted by the providers as there is a slim membrane between spamming and cold emails. But what we suggest is to follow the 40/40 rule, about which you will learn below.
Do you know what is different with Allforleads? The email service we use here is actually FREE, as it is included in the cloud hosting package. The hosting provider we utilize is SiteGround, as they offer the best support. With Allforleads, you can start saving right from the start. Let me explain to you: As we purchase the domains on GoDaddy and afterward change the nameservers and direct them to SiteGround, we provide you with the ability to create an unlimited amount of email addresses and eventually save $6/mo per email sender with Microsoft or Google!
Remember: Enable DKIM and SPF for your domain before creating email accounts. Additionally, make sure you install Let's Encrypt, which is a free SSL that can be connected to the domain.
To make sure you don't end up on the blacklist or ruin the reputation of your domain, we connect not more than 3 cold email accounts per domain name. If you start sending out cold emails above that limit, the chances are that your emails will land in the spam folder, downsize your deliverability and eventually lose customers. With Allforleads, you can be sure that we'll take care of all the possible nuances that might distort your business growth!
So to wrap up this part, let's once again highlight our main takeaways from this chapter:
In order to get into successful cold emailing, we advise you to purchase at least 5 domain names distinct from your core domain;
Connect those domains to a server specialized in email sending;
Enable DKIM and SPF for your domain and make sure to install Let's Encrypt SSL on every domain;
Finally, create not more than 3 sender accounts from each domain. P.S. don't forget to save all your login details in a separate form.
Chapter 2: Connecting Allforleads and your cold email senders

This is a chapter where Allforleads gets to also introduce itself. With our service, you benefit from:
●     All-inclusive tool for cold email marketing that permits you to bring together an unlimited number of users as well as senders;
●     A built-in Customer Relationship Management (CRM) technology that will help you to build an email template, automatically warm your cold emails, create a sending calendar, easily manage all replies, get unlimited contacts, campaigns, up-to-date blacklisting features and etc. If you're already using another CRM, it's not an issue with Allforlead. Because with Allforlead, you can easily connect multiple CRM systems through Zapier. You can also connect multiple SMTP email accounts;
●    Allforleads also has integrated API and Webhook services, allowing you to forward relevant prospect data to another software;
●    You will be able to find a contact list anywhere as with Allforleads you gain access to a database of 575M+ people working in 30M+ companies and you can extract their email addresses;
●    Find key decision-maker pro and personal email addresses with unlimited research and email extraction on the B2B social media. With us, you will never run out of leads anymore.
●    Allforleads also helps you to target recent companies. For this purpose, we offer the Daily Domain Data tool. Eventually, you gain access to 100k+ new leads every day by extracting new domains' data.
●    You can also discover contact information on any website, find and extract generic emails, phone & social media URLs from a website or a company list.
If you choose Allforleads, the services mentioned above and much more can be accessed with only $99/month (7-day free trial). We also offer you a beginner account for $59/month. Otherwise, you can be sure to pay thousands of dollars per month for these features if purchased separately.
Okay, but how to connect?
Go to our platform, then to the "Email automation" (or "CRM" tool on the top left of the page) and from there to "Senders."
Step 1: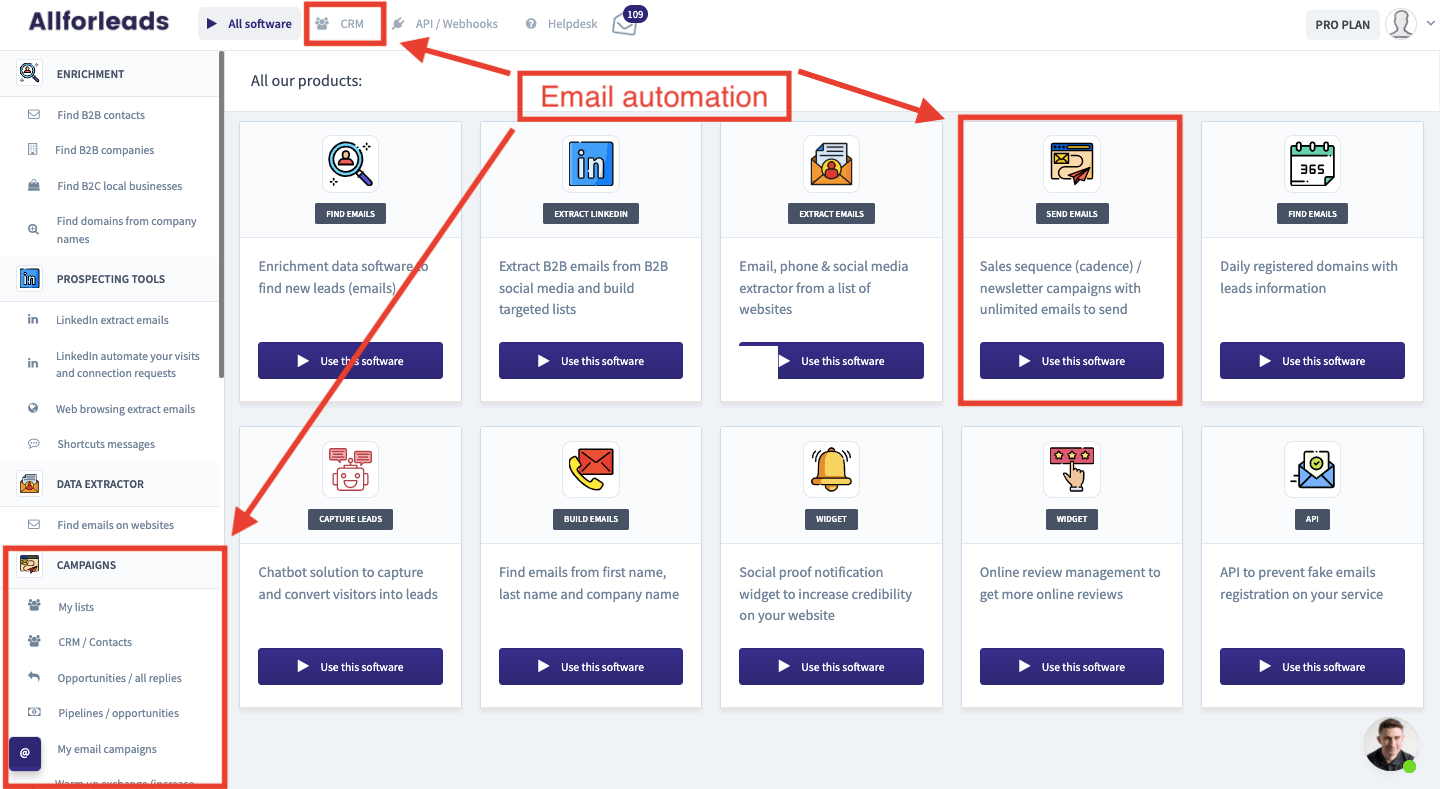 Step 2:

Furthermore, find your SMTP and IMAP information once you create an email sender.
If you completed these actions, you should be able to get your hostname and port number. Steps afterward, just referencing credentials for each sender account that are well guarded in a separate form mentioned above.
And just create an email signature, and you are all set. Otherwise, you can leave the signature for the later.
Pro Tip: Here is the thing about the signature: you should not use any links in it. It's better to include your picture and preferably the professional one. It'd also be helpful to have a data snippet; this way you will enhance your credibility.
Remember that you should access your admin account on Google Workspace and access less secure apps if you are utilizing Google. Microsoft office has the same kind of requirement, where you should enable an SMTP authentication form from your admin account.
40/40 Rule: We suggest you set your daily limit of emails sent to 40 per day. Believe us, sending out a combination of 40 warm and 40 cold emails in a day is the method that gives you extremely high deliverability and email opening by receivers without harm to your domain reputation. This method is what we call our golden 40/40 rule.
As you set a maximum number of emails per day to 40, we also suggest setting the initial increment number to 4 emails in a day. As you connect your sender, you will be able to use "Warm up the deliverability."
Warm up email feature in the CRM section:

As you kick the start, your reputation as the email sender will be gradually warming up, allow it to gain the moment during a minimum of the next 14 days before your first cold email. Even after that, you should let the setting run indefinitely. By combining cold and warm emails, you are lowering the risk of "censored", and eventually, you keep your sender reputation high as well as the metrics positive.  However, you should also make sure you clean your email list and choose the right buyer persona. If you stick to this routine, bots will never regard you as a spam sender.
So, in this chapter 2 we looked into:
Starting your Allforleads account, including a trial option;
Connecting your cold email accounts to Allforleads;
Starting automation to warm your email to stay on the safe side and enhance deliverability.
Chapter 3: Getting ready to send out your first cold email

As we describe how to create your cold email template, list of prospects, and generate leads, we assume that you have already developed your business strategy, which has solutions to your buyer persona's pain points. Otherwise, you can reach out to us, and we'll set your cold email system to get going and help develop your strategy.
One of the critical elements that will guarantee the success of your business is to target the right people. This way, you will vividly increase your open and reply rates. You can check out online resources to help you develop a compelling value proposition. Eventually, you can redraft those to create personalized emails tailored to your prospects.
Dive into statistics: Speaking of personalized emails, they have around 30% more unique open rates and 40% higher click rates when compared to non-personalized ones.
Before sending out your first cold email, you should create a template. For that, you should once again go to the "CRM" tab and click on the "Templates" button there, followed by "Create new template".
Find templates in the CRM section:

Edit templates: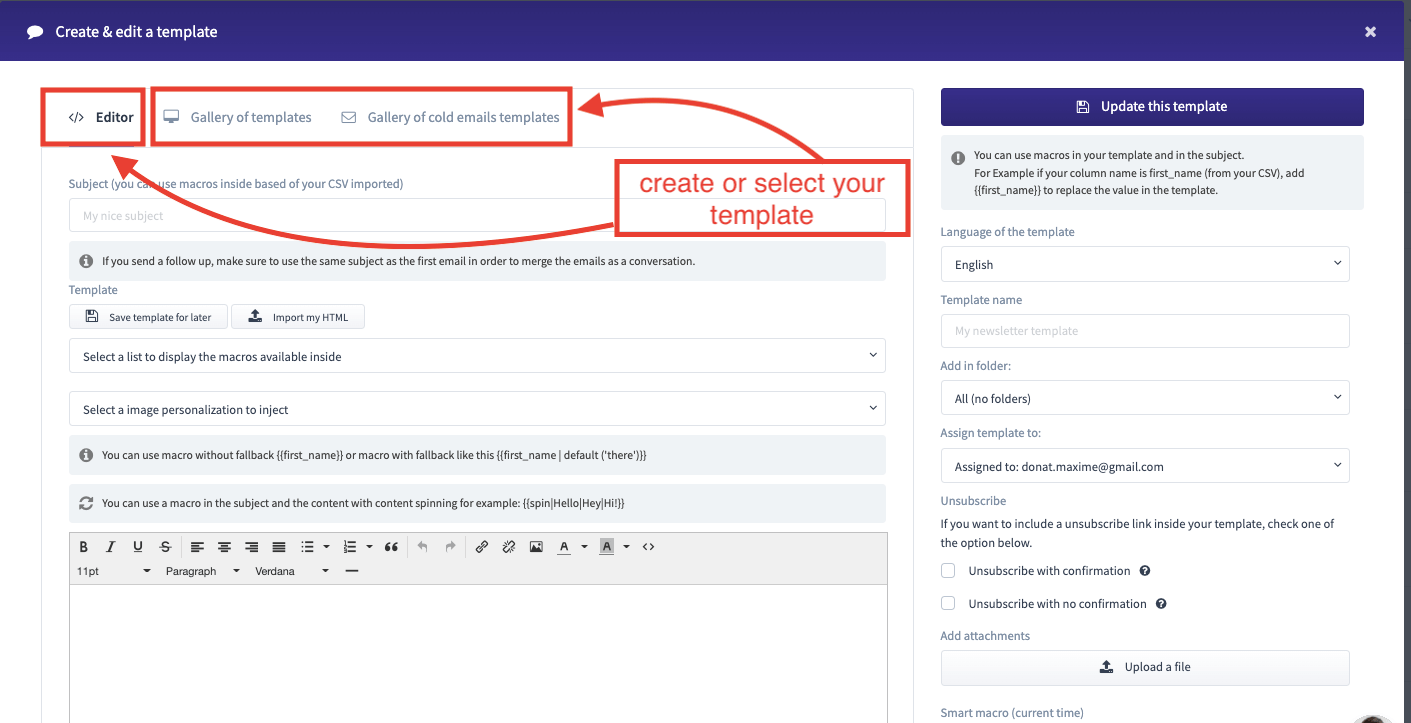 This option allows you to create and save as many templates as you wish and then you can even preview and test them. You should know that you can assign different and multiple templates to different users. Allforleads proposes fixed macros that can be added to your templates. You can also create new macros yourself.
Our service also offers you cold email templates that you can find fitting into your brand strategy and use them.
Pro Tip: Try to avoid using links or pictures in your emails, as those might easily fall into the spam category.  A straightforward, personalized text email is the most suitable option for your initial steps. Easily comprehensible questions and their possible solutions, which will catch the attention of your target audience, increase your chances of landing them as a potential customer.
It is time to learn how to import a list of data on cold prospects. With Allforleads, you can get access to as much outreach data as you wish, but more on this later.
In order to import lists, you need to move from the "CRM" tab to the "Lists", which is at the top, and here click on "Create a New List." We guess that soon you will have tons of lists of this kind, so we advise you to identify the current list with a clear name and continue this with your future list. Believe us, it's one of those tiny moments that help you stay organized!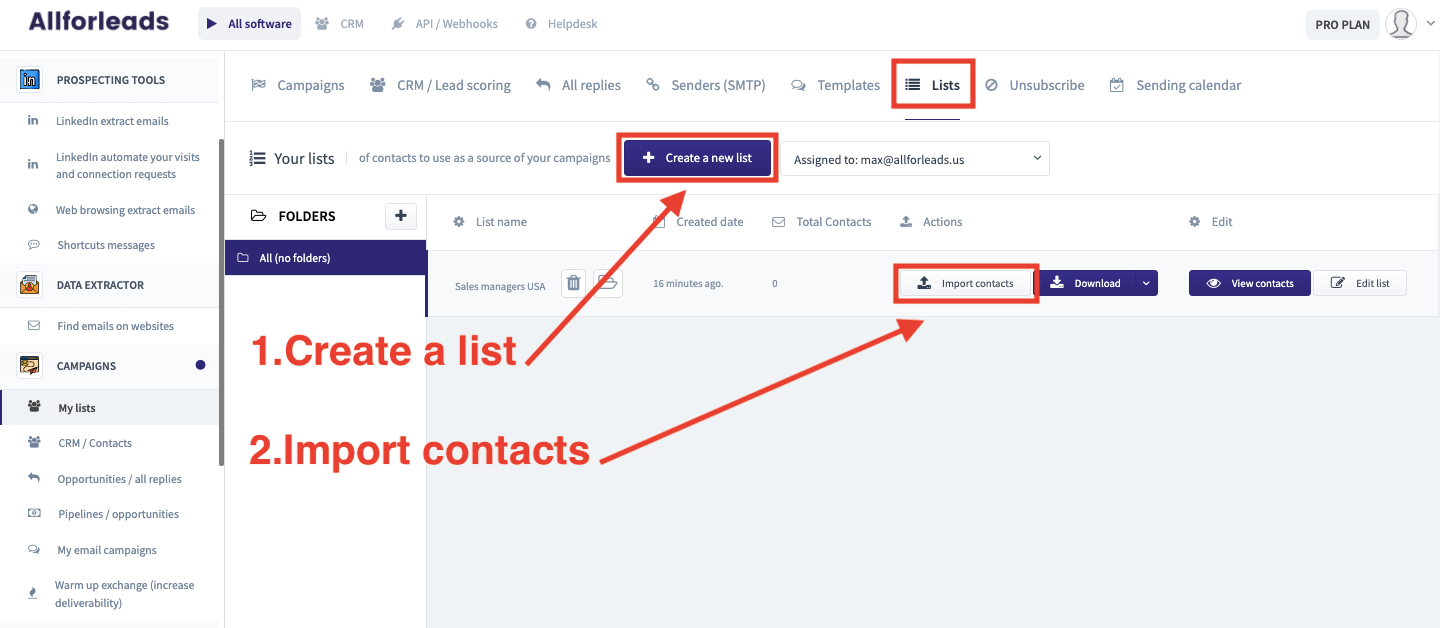 As mentioned in the above paragraphs, you can allocate the lists to different team members, for instance, a colleague responsible for cold outreach or sales emails. In the beginning, it might be just a one-man band, but don't worry and stick to Allforleads, and we'll help you to grow.
Another element you need to keep track of is macros. While you import the list, you will also be able to assign macros to columns. You can use default macros; nevertheless, you can make your own too. We advise you to create a separate spreadsheet, for instance, by using Microsoft OneNote and write down all of the macros for every list.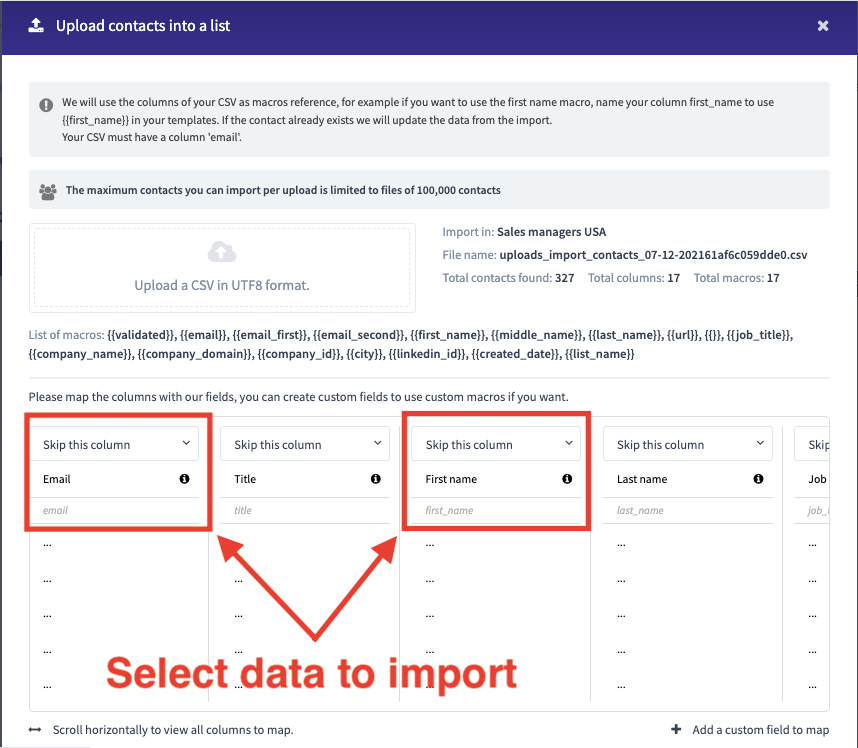 As we discussed before, you could assign every list to a different person depending on the task or campaign. You should be aware that the maximum list size is 5000 people, and you should not import lists more than that. However, you can also break up big files into smaller parts to be able to upload and then manage them. If you wish to proceed with the mentioned CSV auto split option, check out these tutorials for Mac OS X users and Windows users .
Pro Tip: The more details on your prospects you have, the more macros you can prepare. This will allow you to personalize your emails even further and get higher returns.
Afterward, you should select the "Campaigns" tab and "Create a New Campaign". Here you can create a chain that would have follow-up emails or just send a one-off email.

Command fields here are self-explanatory, and we think you can manage them without us so that we won't go into details of all of them. But, we will still share our principles when it comes to configuring email sending times and delays.
To once again remind you , we are sending out only 40 cold emails for a sender in a day.
Let's look at how we have pointed out so far works in real-life examples. Let's say that for the sake of this example, our target audience is residing in the United States and we're willing to reach out to them during the daytime. With this purpose, we'll be setting our sending schedule to the Mountain Standard Time, between 9:00 AM to 3 PM.
Now, get ready for some calculations! As we set our time, we have 6 hours. It means 40 emails for 6 hours and subsequently, 7 emails in an hour. If we divide 60 minutes by 7 emails, we'll get a rough 8. The latter number shows that our maximum delay timer shouldn't be MORE than 8 minutes. Otherwise, we won't be able to send out all our cold emails on time.
Remember, our worst enemy while sending out cold emails is spam detectors, so we want to make sure that the process looks as natural as possible! With this in mind, we will set up a minimum delay of 4 minutes, which looks natural and is not so quick after all.
You may also set a 10 to 12 hours time frame to send emails to your target audience for the business. In this case, the maximum delay time can be set, for instance, as high as 18 minutes, with a higher minimum delay of 8 minutes. Don't forget to check "track clicks" and "track opens".
Pro Tip: Allforleads is designed for busy people, so we have set features that would ease your email sorting. For instance, you can create a separate list, where you can place a prospect that opens or replies to an email and this process can be well automated. This is why we never start the campaign by creating the sequence, we wait till the initial interaction takes place so that we could create follow-up emails. In case there was no action, those "dead" prospects are cleaned from our list, which ensures maximum optimization of the account of our cold email sender.
But, we, of course, go back and try to re-engage with unresponsive prospects. In this case, we usually try to use another subject line and reposition the value proposition. Our experience showed us that you often need to build a tie with your possible prospects by just sharing something of importance and value.
In our email sending system, we have a section to store "All Replies". Nevertheless, we also have the "Custom reply To / CC / BCC" possibility, which is an alternative for the "all replies" option, and which allows you to set up a custom email address, where the replies will be sent to. Often it might be set as an official non-cold email address, which they use from their @mainwebsite.com email sender account.
The CC option can be used to carbon copy an email campaign sent out to a large number of replies to include someone from your colleagues so that they can assist you with responses.  BCC is usually utilized to integrate into tools like CRM, which you can use to log the contact data into marketing software like HubSpot or ActiveCampaign.
So, summing up chapter 3, here we learned how to:
Come up with the very first cold email template;
Create a cold prospect list and import it;
Initiate first cold outreach campaign.
Chapter 4: Lead scoring configuration

Score attribution is the feature that assigns point values to leads depending on their specific return like clicks, opens, website visits, replies, and converts.
The point value you assign to the above events depends on you and mainly on the products and services you offer. All in all, the core point here is to identify prospects with a higher probability of converting from potential clients to customers. Those with higher scores will be the qualified ones, indicating that you are dealing with the right person or audience. As time passes, you will learn to identify better the prospects with potential and the campaigns, which attract greater attention. Eventually, it'll allow you to customize more.
Step 1:

Let's show you point value determination in action. The best way to work this system out is to start from the end. Assume that the prospect should "earn" 100 points to become your customer. Think that a prospect who scored 50 out of 100 can be qualified as a warm lead. Now, let's think of an event that would turn your warm lead into a potential client or customer. In Allforleads, our breakthrough score is 70 or higher. To collect this score, a prospect should:
●     Open our email
●     Reply to our email
●     Click on our link
●     Visit the demo version of our website
●     Convert to a free trial
Those are the initial steps taken by a prospect with potential. The MAIN step that was not yet completed is upgrading from trial to a paid version. So, we will assign a value to this MAIN event – 30 points. This is what we meant when saying that you need to start from the end. Going backward, we assign a value of another 30 to free trial; to demo version visit – 20 points; 11 points to guide visit, 6 – reply to our email, and 3 to opening the email.
This exercise might give you an idea of organizing a lead scoring that would be useful for your business, including customization and delivering content to those interested. Alongside business benefits, this feature will help you save energy!
To sum up, in chapter 4, we:
Identified the steps that warm up your lead;
Learned the method of backward scoring.
Chapter 5: Get integrations going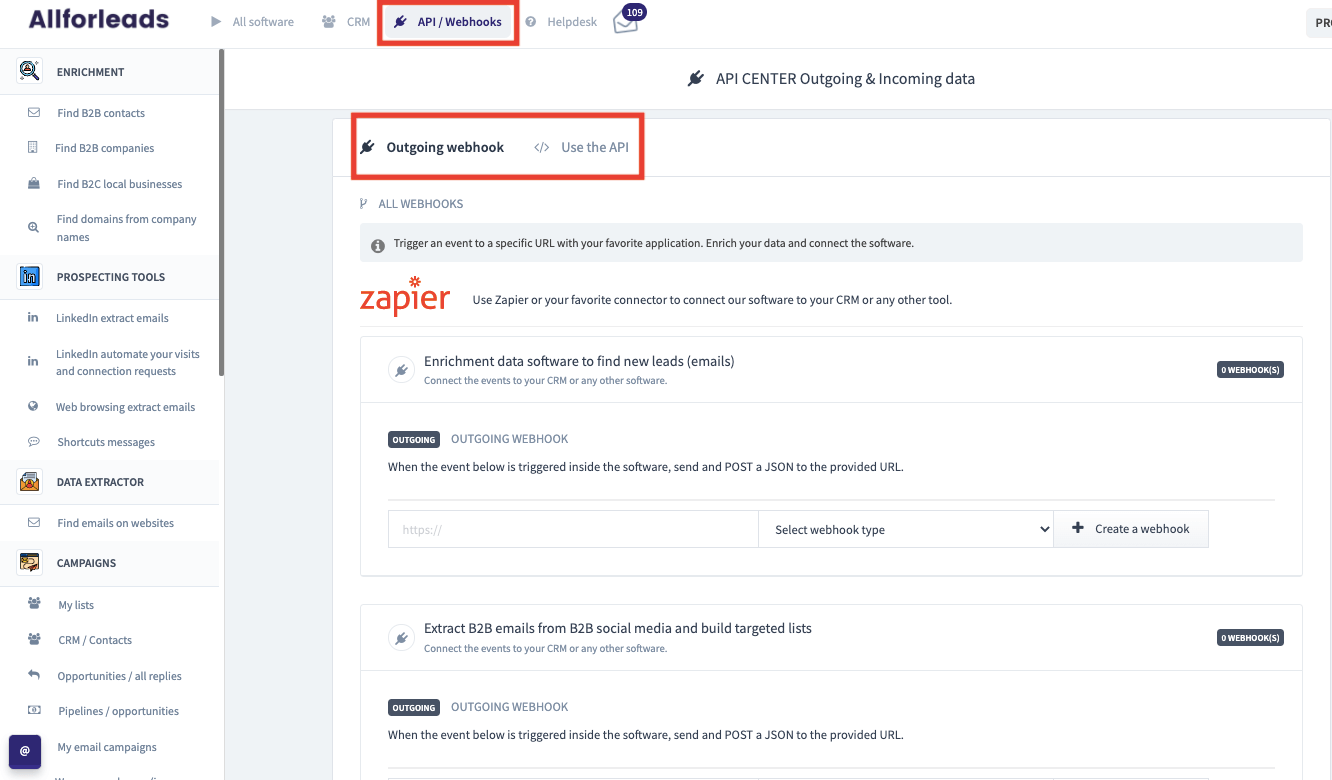 But if you are an ordinary user, it would be useful for you to look at a tool like Zapier, which is integrated into our system and can help you automate repetitive tasks within two or more apps. With Zapier, you can create a webhook and push it elsewhere like CRM or a spreadsheet. We, in Allforleads, will be adding more scenarios into this part that would aid you in optimizing your cold email outreach and marketing.
As you'll work with our integrated tool, you will realize that you can push data on your prospects from Allforleads to any other apps, including emails.
With us, you can set forward hyper-targeted ads on the platforms like Twitter, Facebook, Snapchat, and others, thanks to the flexibility we offer you while dealing with prospect data.
Another possibility is to extract and auto-export user data from the website or social media to a spreadsheet or any other tool. In the future, we'll give you more information and hints on how you can use your data and what to do with it.
You can also find "Sales sequence (cadence) / newsletter campaigns with unlimited emails to send" webhooks options on the integrated dashboard. We want to highlight this option because it can be helpful if you are using an automation tool like ActiveCampaign. In those cases, when a prospect converts on a particular page or visits it, you can set up to send them into automation. There you can analyze the details of the mentioned prospect and customize your reach out.
Our conclusions from Chapter 5:
List down tools you are using on an everyday basis;
Look into automation of tasks and data flow;
Jot down ideas in OneNote.
Chapter 6: Finding prospects through our tools

If you follow these steps, be sure to get new potential clients in no time.
This video shows how to use our database to find B2B contacts and extract data (emails, phone numbers etc.)
In the second example, you will learn how to build a targeted email list from LinkedIn.
In the last example, we will show you how to extract data included phone numbers from any local B2C businesses on Google Map.
Your takeaways from Chapter 6 should be:
Brainstorm various marketing experiments for your growth and enter them into OneNote;
Figure out the best person to aim at for every campaign;
Look into how you can be of value to your ideal customer and engage their profile.
Chapter 7: Daily management
Daily management of your campaign is one of the essential elements to guarantee its continuous success. You need to know your audience and how to target them; otherwise, you risk losing your time searching for those daily. On the other hand, if you're aware of your audience and you can offer solutions to their problems, it means your campaign has a mission and purpose. Thus finding new prospects via social media or our database should be very easy.
You would only need around 10-20 minutes to upload your cold email campaigns with a sufficient number of emails so that your outreach could continue for several days. All things ideal, you will have to spend more time on warm leads and methods to engage with your top-scoring customers.
Pro Tip : We would advise you to use Microsoft OneNote to save templates of your responses to your leads. This way, you can save time while responding and improve and update your templates according to how effective they are.
Our daily to-do list on OneNote looks like this:
❖   Look into the "All Replies" inbox and reply to warm leads;
❖   Check answered and converted campaigns for progress;
❖   Brainstorm with your team for new ideas, like content for campaigns;
❖   Research your competitors to keep up with the market pace;
❖   Verify the gaps in scheduled outreach emails through checking the "sending calendar";
❖   Retrieve new information on prospects to optimize your cold email campaigns.
ProTip: Email is the first thing 58% of consumers check in the morning.
In chapter 7, we looked into:
 It's helpful to log the processes of different daily tasks in OneNote.
 Prioritize daily tasks in order of highest to the lowest value of importance.
For now, this is all we wanted to tell you to help you grow your business.