How to generate leads and convert them with Allforleads tools ?
This tutorial will show you how to use the main tools of Allforleads, in order to find and extract data, build email list and send cold email campaigns.
We will only focus on our lead generation and email automation tools :

B2B Database
Google Map scraper
LinkedIn scraper
Email automation tool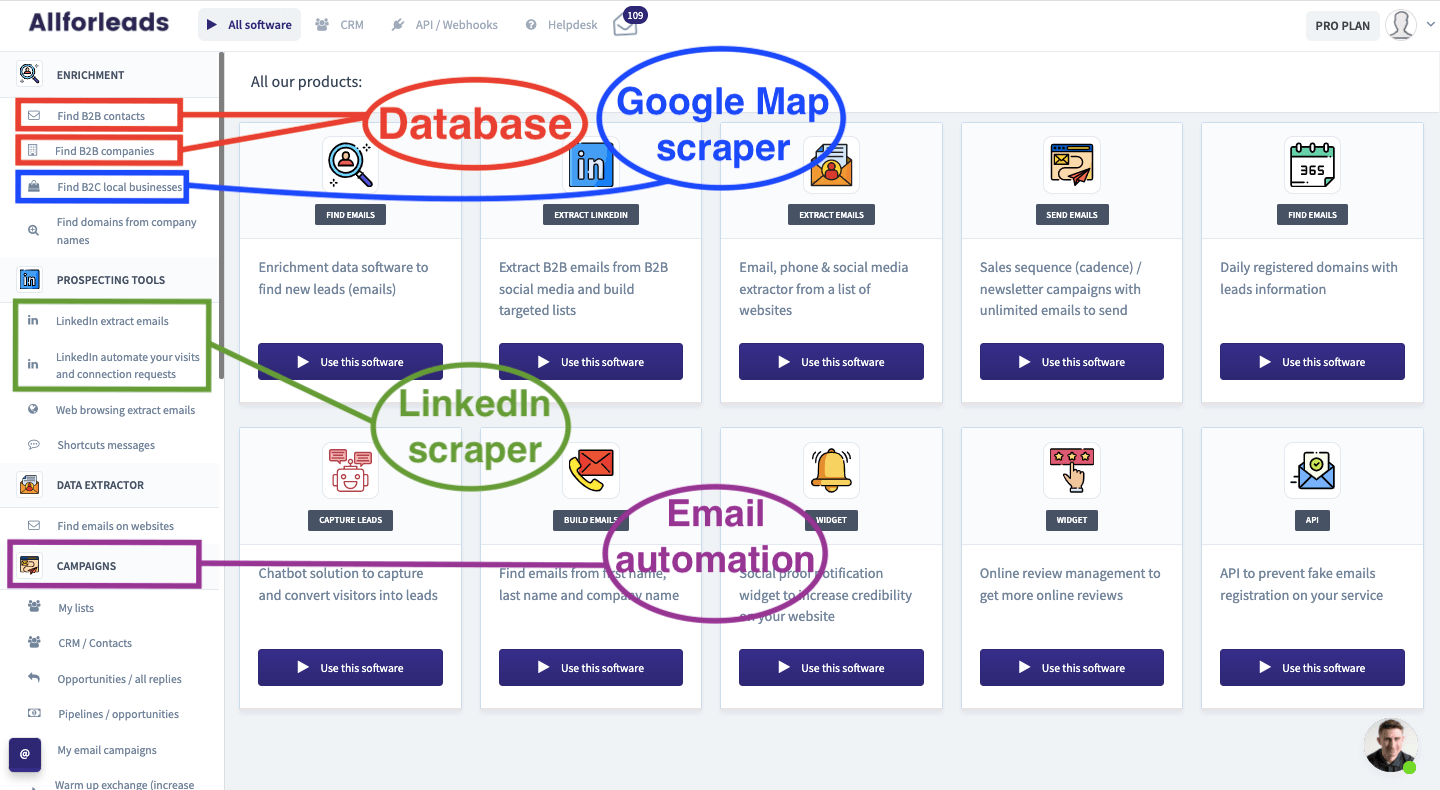 More precise and complete tutorials are available once you clicked on a tool of our platform. Just click on the "view all tutorials" window (it can take a few seconds to appear, and the content changes according to which tool you are on).
It is also possible to ask for help from the support through our live chat.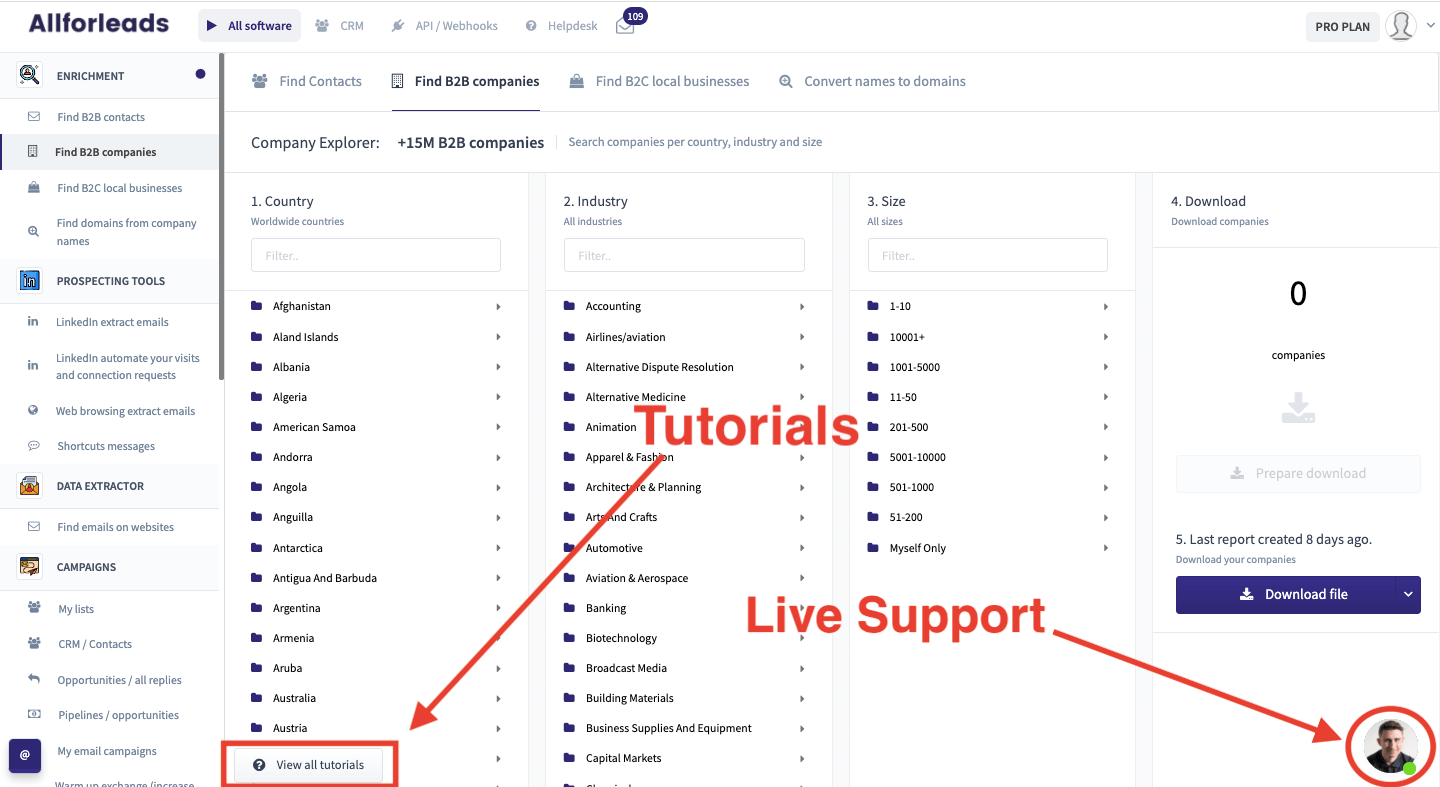 1. The database
Our database is in 2 parts, which should be used together for optimal results: Company DB and profiles DB.
Find B2B companies:
This tool allows you to search companies with 3 filters:
Country
Industry
Company size (number of employees)
Once you selected these 3 filters, a certain number of companies will be found in our database. You can download the results in an excel file.

Find B2B contacts:
This tool searches our database for people working in the previously targeted companies.
To find profiles data, simply enter their company domain (up to 1000 per search) and launch the search.
It is possible to add other filters and to target only certain positions
Combine the 2 databases:
Search for companies with the Company Finder tool and download the excel file to find their domains.
Copy the domains and paste them into the profiles database to find email addresses of people working in these companies.
2. Google Map Data Extractor
Find and extract information from any local business on Google My Business (or Google Map). Restaurants, clinics, doctors, gyms, shops, dentists, lawyers etc.
Demo video
3. LinkedIn scraper and auto-connect
Make sure to install the Chrome extension in developer mode.
When scraping, Allforleads automatically finds the missing information in our database if possible.
Demo video
New Update:

When you click on a LinkedIn profile, you will see a 3rd tool in bottom left corner. You will now be able:
To send this prospect data directly into one of your list.
To send this prospect data directly into a running email campaign.
4. Email automation
Once you have your email lists (cleaned), it is time to start your email campaigns.
Find more details in the blog post ?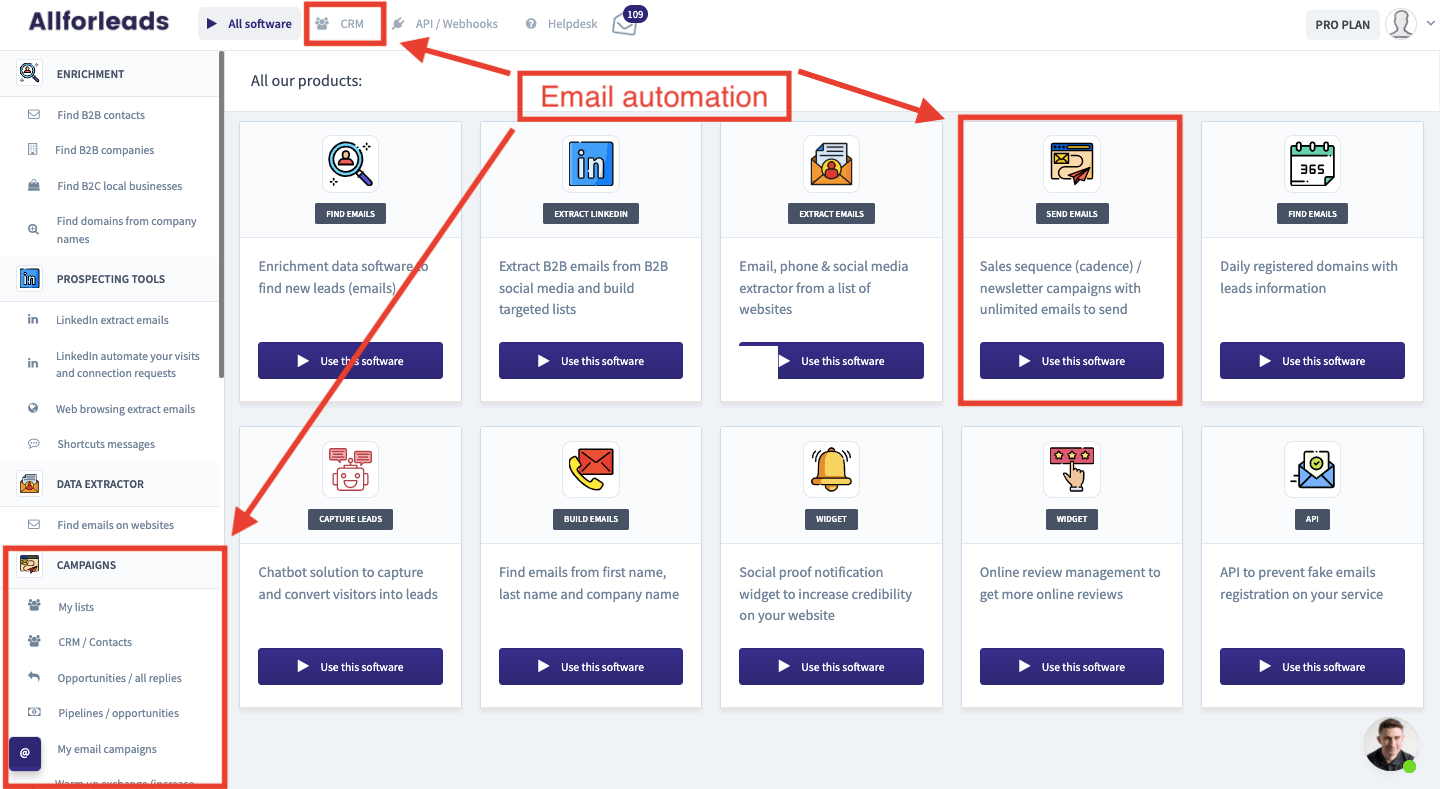 Configuration:
Connect an email address in order to send emails (you can ask for help from the support live chat). Make sure your email is warmed-up and ready to send multiple emails, or use our warm-up email feature.

Create your personalized email template (or use ours)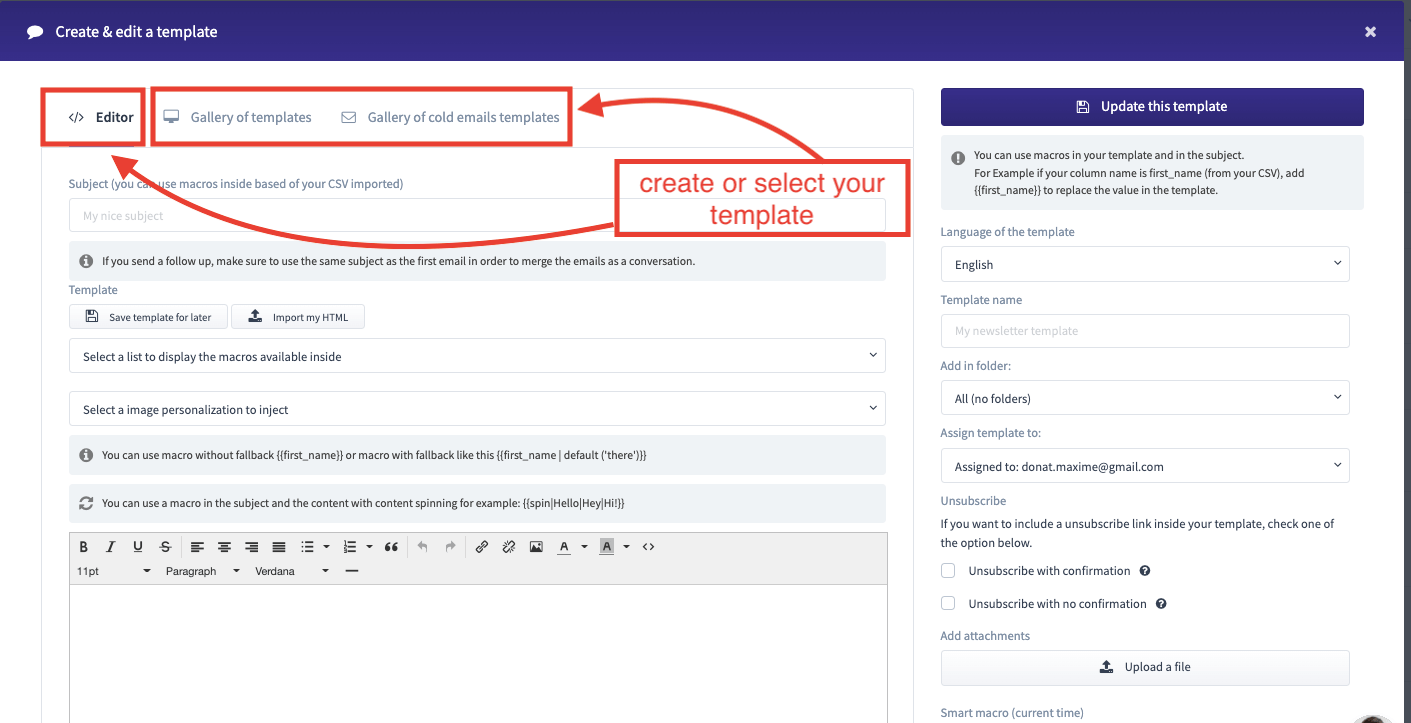 Usage:
1. Import a contact list (select the columns needed to personnalise your email)

2. Create an email campaign

3. Manage

your running

campaign by checking:
Conclusion:

Now you know the basics concerning our main tools to generate leads (database, LinkedIn and Google Map scrapers), and convert them (with the email automation tool).

It's time to start scraping data and rocket your business !